You know what they say: try before you buy.
Pictures of tiny houses and bus conversions you see on Pinterest may look adorable and well-styled, but it might surprise you just how...well, tiny they actually are. I don't want to use my Christian-Bale-Batman voice here, but it's crucial to get your real-life-body into a real-life-tiny before you take the tiny plunge.
The trouble is, trying out a tiny house isn't as easy as test driving a car.
JK, it totally is! Thanks to the modern magic of sites like AirBnB, you can find tiny gems to visit in almost every state and country.
Here are a few favorites we found here in the US.
First up: the Southeast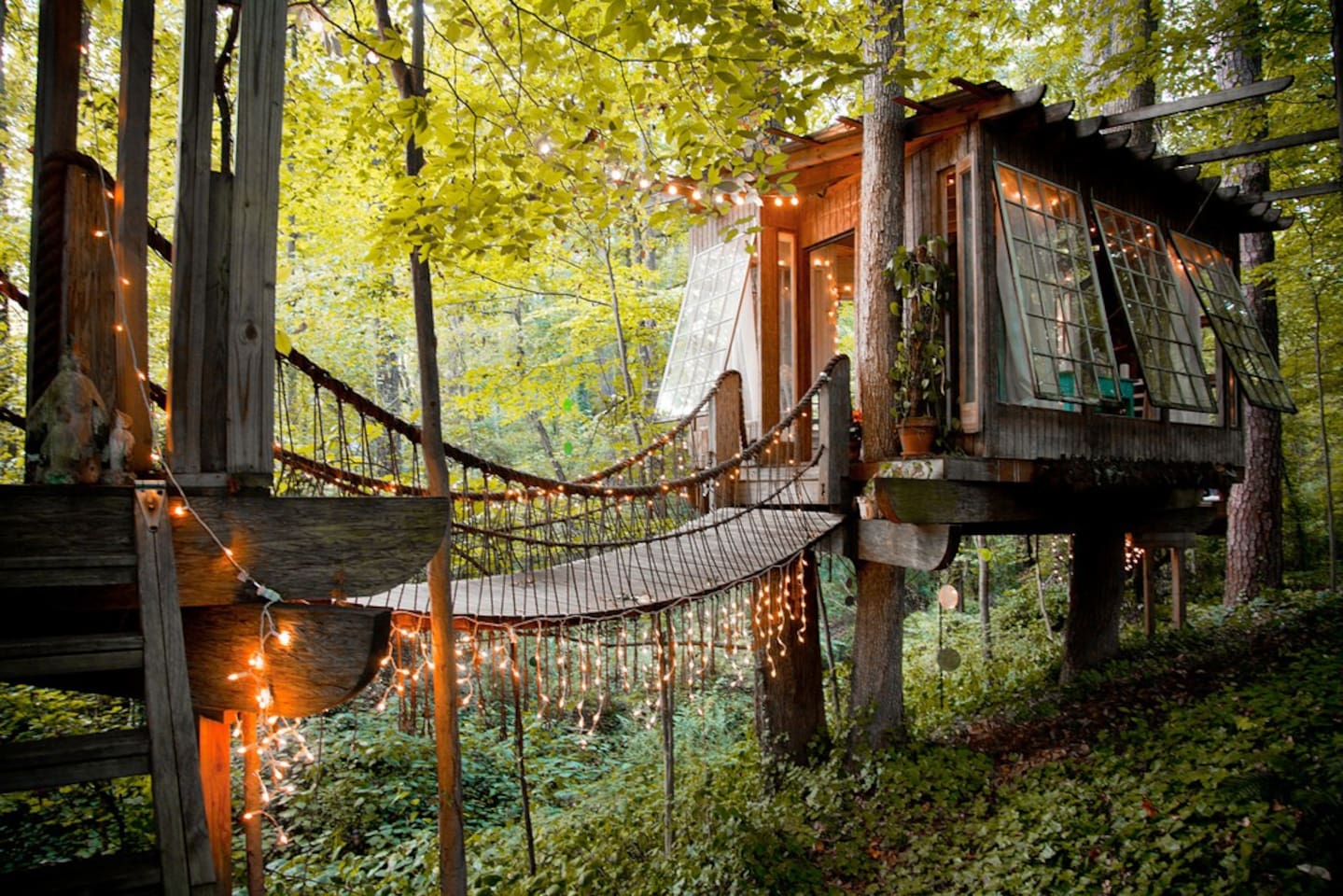 Secluded Intown Treehouse: Atlanta, Georgia ($$$)
Andrew and I actually stayed here for one of our anniversaries (before it got astronomically expensive) and it was seriously magical. I recommend visiting it if only for the charm factor (and it is jam-packed with charm). Located right outside of the downtown Atlanta area, it feels like you're in the middle of a lush, dense forest due to the surrounding trees and vegetation. The property consists of a trio of treehouses, one with a sitting area and desk, one with a sleeping area and writing nook, and one with an outdoor deck and dart board. The attention to detail inside and out is pretty astounding, and might give you some great ideas for your own tiny (hellooooo, tree-top patio!)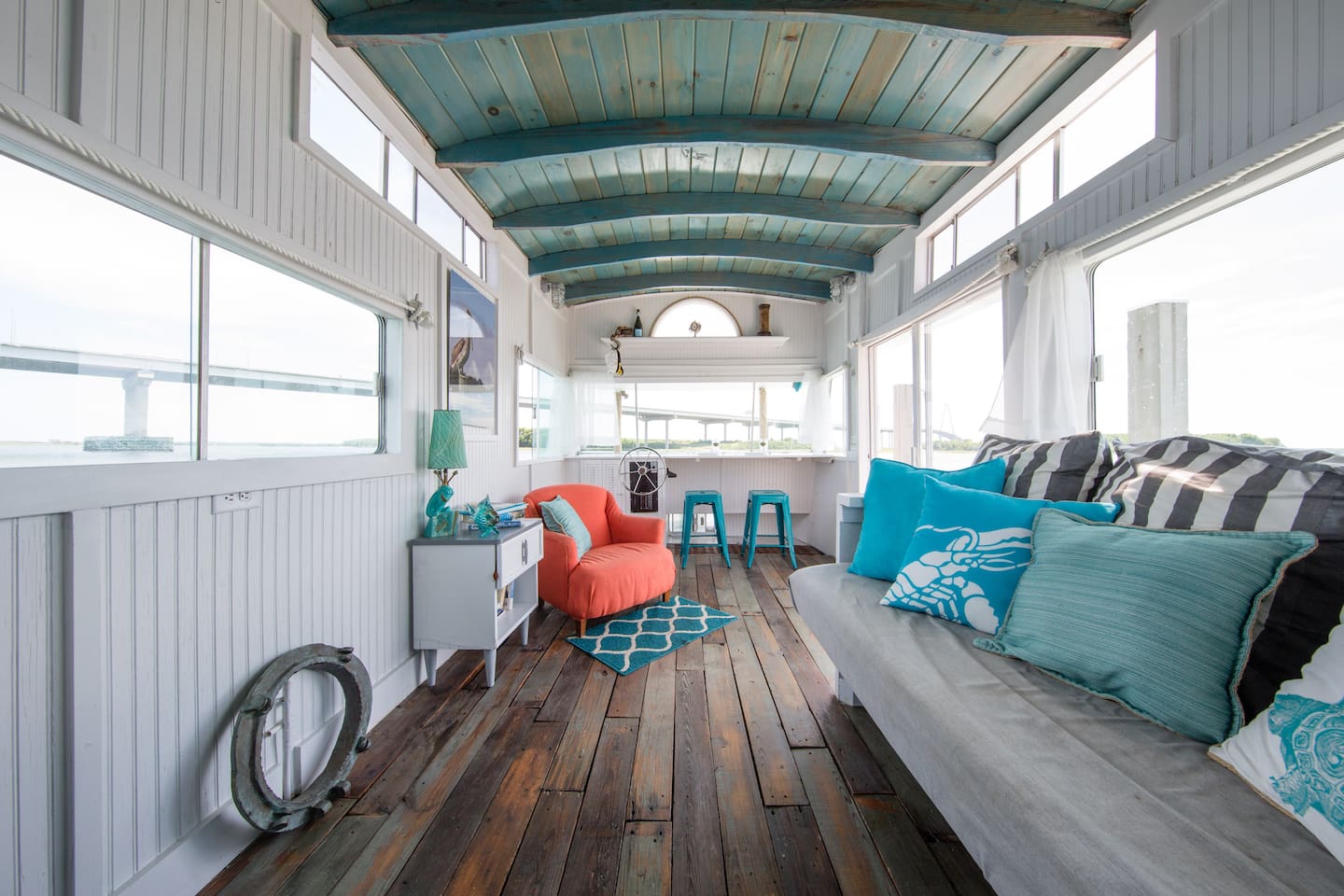 Classic Charleston Houseboat ($$)
House boats are charming, quirky alternatives to many other traditional tinies, and they come with their own advantages. In many parts of the US, house boats aren't legally considered the sort of property for which you'd owe yearly property taxes (score!), but you may still owe personal property taxes. The views are tough to beat, and there's also the advantage of being able to move your houseboat to new shores whenever you'd like. This particular house boat is in a gorgeous part of the US (my parents were married in Charleston and Andrew and I had our first date there, so I might be a little biased).
West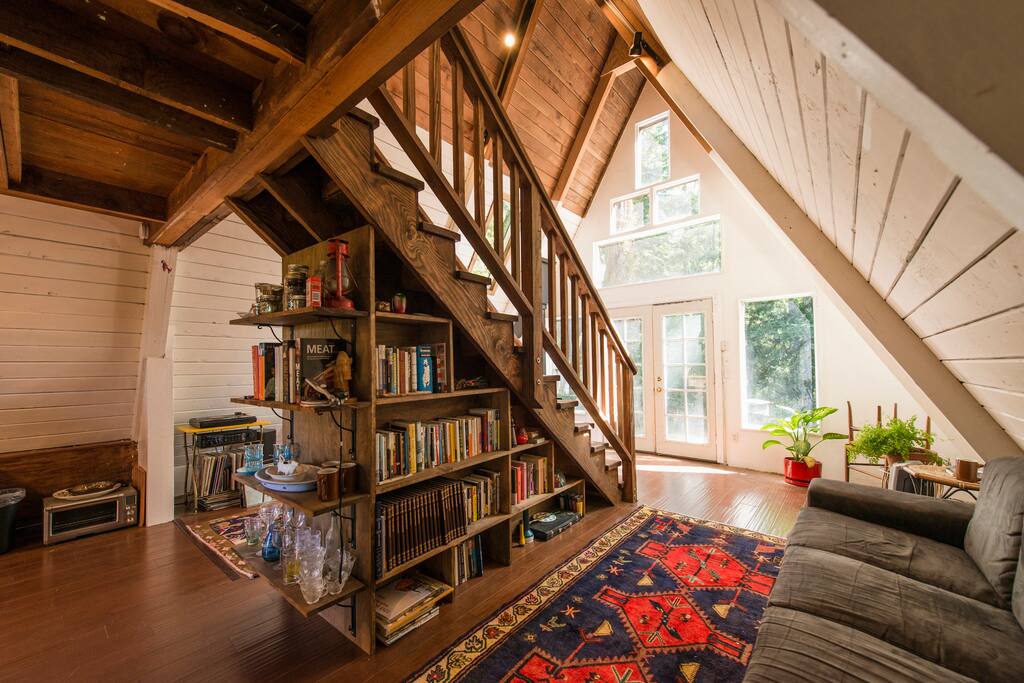 Cozy A-Frame Cabin in the Redwoods ($$)
This tranquil, thoughtful cabin is less than 2 hours north of San Fransisco, and is a really lovely example of rustic tiny living done well. A-frames aren't for everyone (particularly taller individuals who need a bit more headroom), but they can be a great fit for small families (think couples or singles, since they typically only include a single loft for sleeping). As a whole you get a bit more space than a tiny home on wheels, without the massive footprint of a traditional home. An unexpected bonus: for those non-mobile tiny-house hopefuls, many older A-frames can be purchased fairly inexpensively, and restored (or renovated) to your individual taste.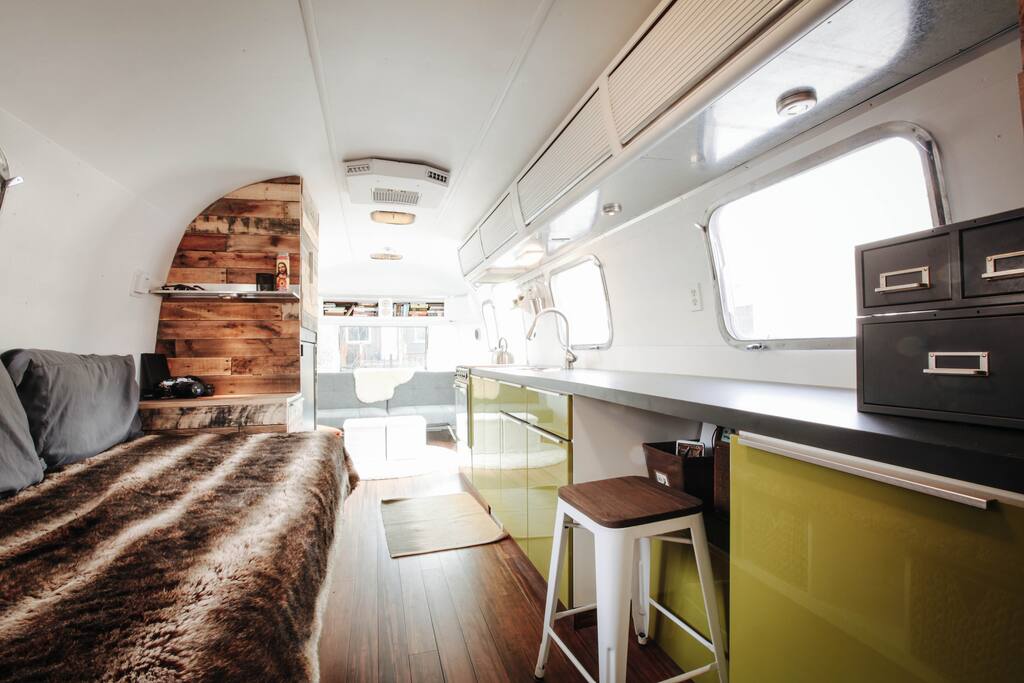 Modern Airstream in Salt Lake City, Utah ($)
This sleek Airstream trailer is a chic, streamlined option for minimalists who plan to travel frequently. Airstreams are lightweight, aerodynamic, and relatively easy to tow since they're built for travel. They do come with a hefty pricetag, but their value holds up well over time (just ask the 30 year old Airstreams that are still selling for tens of thousands of dollars). If you don't have a lot of stuff to consider (and really, isn't that kind of the point of living tiny?), this might be a great option to consider.
The Traditional Tiny in Draper, Utah ($)
If you're seriously thinking about moving into a traditional tiny house, I can't recommend enough that you stay in one for at least a few days. Try, as much as is possible, to rent something that closely resembles what you think you want. I thought I wanted a sleeping loft more than anything, but I can't tell you how glad I am that I didn't go that route. (Hint: I'm really, really glad.) This tiny house boasts a smart setup, spacious sleeping loft, and the coolest tiny bathroom I've seen in a house that size. Seeing how a tiny works IRL can also be a great way to quickly decide what works (and doesn't) for your family. Maybe you're too tall for a loft. Maybe you're a foodie, and need a bigger kitchen than certain tiny houses offer. Or you might find that you need much less space than you imagined. You definitely won't know, though, until you try.
Pacific North West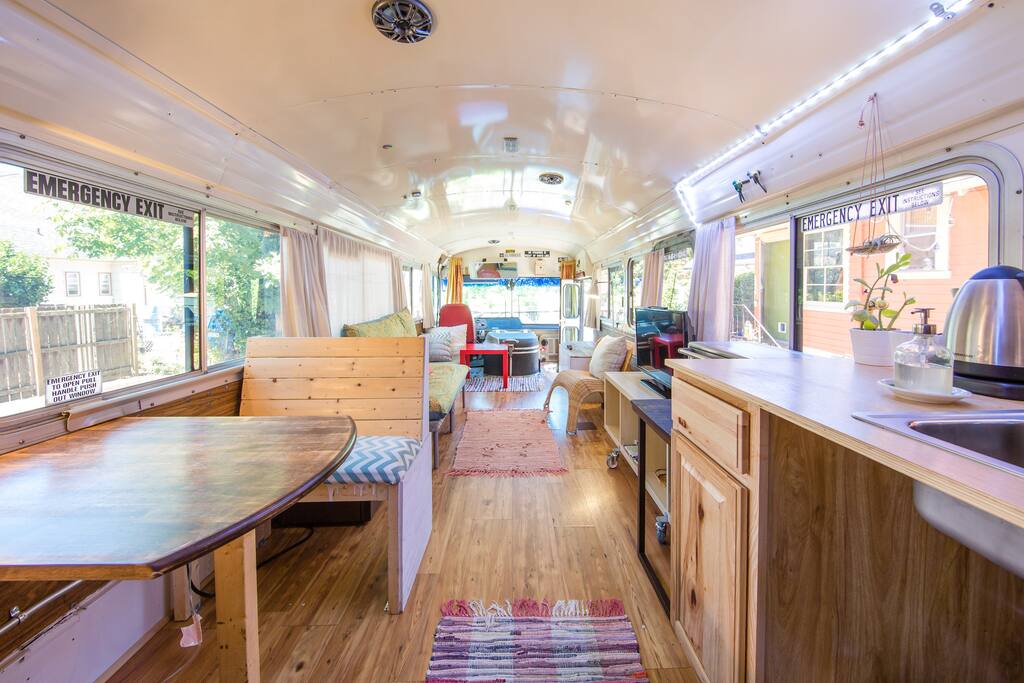 Lady Bluebird Converted Bus in Portland, Oregon ($)
Last but not least, we have this gorgeous bus conversion in Portland. This build is light, bright, and full of ideas to take away in regard to your own tiny home. Full disclosure: Bus conversions are tricky things- they photograph extremely well, but physically being in one is an entirely different experience. Buses have low ceilings, and can be poorly insulated (especially if they have the original windows), which means they can be freezing in the winter and sweltering in the summer. It's important to experience at least a week in one to really understand the highs and lows of this particular option. They're cheap, fully customizable, offer an open floorplan that can feel much more spacious than some other tiny options, and are mobile. But there are definitely drawbacks to a home that's only a few feet wide (when you take furniture and built-ins into account).
Making the choice to live tiny is a big one, but it doesn't have to be scary. Preparation, planning, and experiencing different options first hand will empower you to make the choice that's truly best for you and your family.
Questions? Thoughts? Leave them in the comments :)!