Confession: we love the holidays. LOVE. One of the first thoughts I had after forking over our life-savings-in-the-form-of-a-cashier's-check to a complete stranger was, "I bet this place will be SO MAGICAL at Christmastime." And it is.

One of the perks of tiny living is that you have to make minimal effort for maximum impact in terms of design. That's especially true when it comes to holiday decor (but don't worry, we went all out anyway). Looking to spread some holiday cheer in your own home? Look no further.
One of the keys to avoiding Cookie Cutter Christmas is tapping into your own unique voice. For me, that starts with asking myself "What do I already have that I can use?" That will almost always lead to interesting (responsible) design choices. Another facet to focus on is using decor in innovative ways. For example, I made garlands out of these lovely pastel bulbs instead of using them exclusively on the tree.

While we obviously don't have space for vignettes galore, I made a place for these bottle brush trees (also from Target) and this felted rose tree that my mother made (yes, from scratch. She's fancy).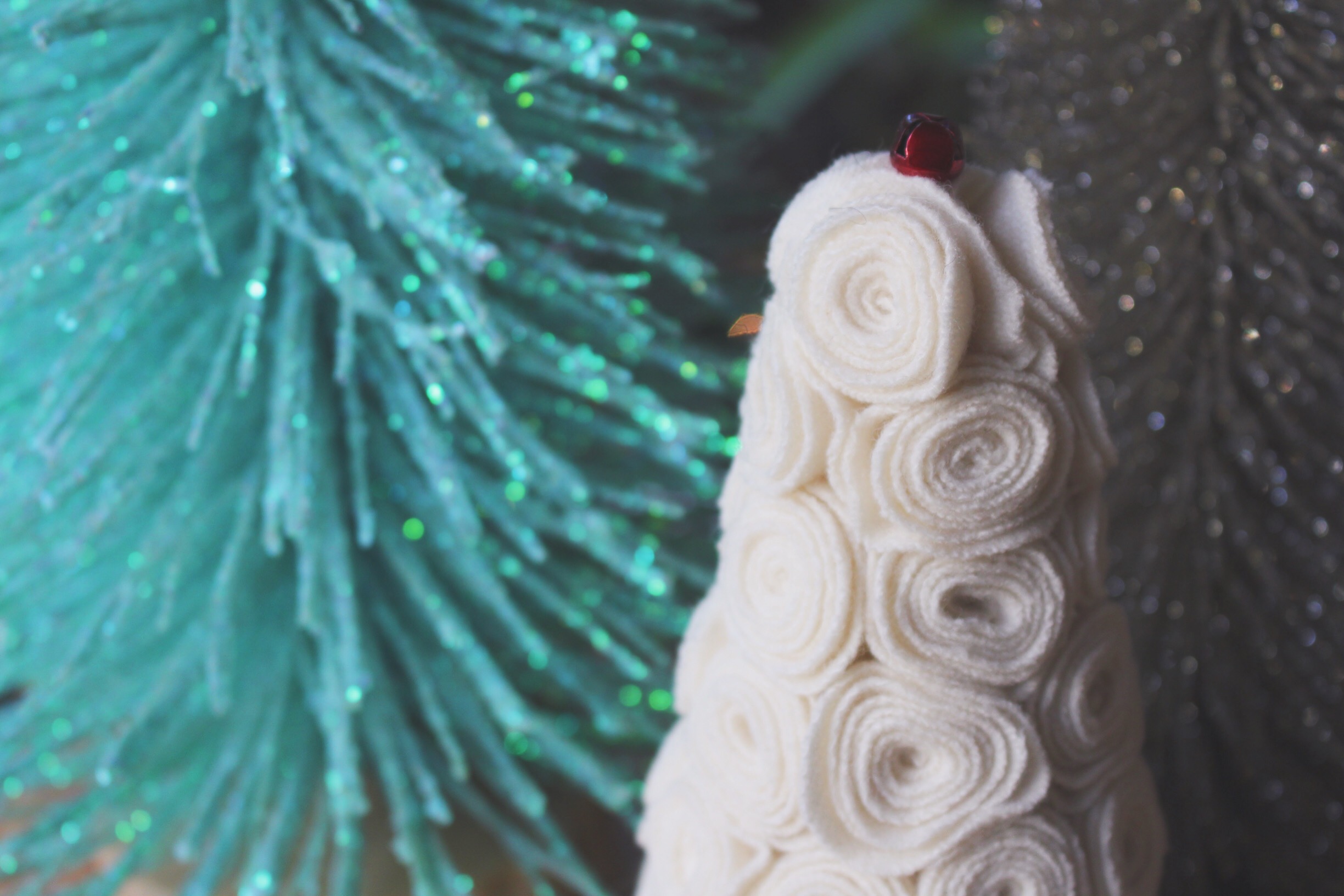 In the kitchen, I opted for more simple decorations since we use almost every square inch of that space on a daily basis. These glitter pine cone ornaments add a pretty, if small, visual detail without getting in the way.

Something to consider: don't overlook a potentially interesting visual space. The side of the fridge might not seem like prime holiday real estate, but look at the impact!

Yet another example: sconce snowflakes!

Since we have a legit fireplace, we dressed it up using a wreath my mom made for us last year, along with our his-and-hers deer stockings.

Naturally, we got a tiny tree for our tiny bus. We've named him Tiberius, the Adequate.

Yep, we went for a live tree. I don't like the idea of having yet another thing to store, and this tree is still potted so that we can attempt to transition it outdoors post-holiday. You're welcome, ozone!
Next up: Hanukkah. This simple (but joyful!) pennant banner packs a colorful punch (and stores easily).

One of my favorite heirlooms is this West Elm menorah. It's pretty enough to leave out all year (and I do) and is still elegant enough for the holiday. Just add candles.

If you thought our bathroom was too small to decorate, hoo-boy, are you wrong. Fairy lights make everything magical, and are easy and inexpensive to get.

Last but not least, the bedroom got some subtle wintry touches! The lighting is so soft and romantic now. Love. It.

Thanks for taking the holiday tour! Stay tuned for a special surprise from us (coming soon)!